Different kinds of modules can be controlled:
· screens for media (videos, pictures, TV channels, HTML pages, webcams)
· LED panel for text (text, date, time, temperature)
· weather values (avalanche and wind warning levels)
· time values for operation time (start time, end time, last trip up/down etc.)
· panorama table with operating status (lifts, slopes, parking places, lodges: open, closed, powered off)
The display control of the modules runs in the background automatically depending on the content and defined rules.
With InfoGIS your guests will be informed comprehensively.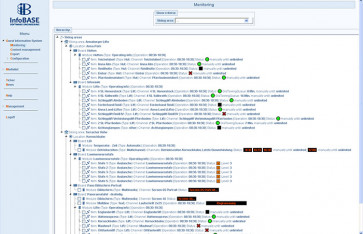 The information which should be displayed, will be stored in templates and is played depending on the given rules.
The display of operating status can be managed by authorized users or automatically depending on the defined rules.
InfoGIS also contains a user right concept, so that each user can be given individual rights and tasks.